I live in the north of England, in a house built of dark stone and shaped like a tiny castle. It's a Victorian folly of sorts, complete with turrets and towers.
That I've produced a novel about the Windsors whilst living in a castle-shaped house is one of several things that has made writing The Governess seem like Fate. Certainly it is the expression of a long-held fascination. My grandmother had a souvenir book of the 1937 Coronation of George VI and Queen Elizabeth. It was a big flat volume with gold cloth covers and wonderful sepia photographs of the royal family. I used to stare at them for hours and could see they were all distinct characters: the ever-thunderous-looking Queen Mary; grumpy King George; the glamorously-bored Prince of Wales; the sphinx-like, bejewelled Mrs Simpson. The idea of writing a novel about them probably started right there.
But years later, when I began considering it seriously, I wanted the right way in; a new slant on the Windsor story. An outsider's perspective, but not a footman or housemaid. The answer was long in coming and the last place I expected to find it was in a second-hand bookshop on a rainy day during my children's half term holiday. When Marion Crawford's autobiography The Little Princesses came tumbling out of a shelf I realised the answer had quite literally fallen at my feet!
I was hooked from the very first page, where 'Crawfie', as she came to be known, tells us that royal service was the last thing she intended and that when her teacher training was over she wanted to work in Edinburgh's slums. How, I immediately wondered, did someone with these progressive views, who wanted to work at one end of the social scale, end up right at the other? This in itself was fascinating but even more so was the discovery that she squared the circle by giving her royal pupils as normal and fun a childhood as possible. She took them on the Tube, to Woolworth's and swimming at the public baths. I was amazed that this extraordinary story was not more widely known.
The reason of course was that Crawfie was obliterated from history after she wrote The Little Princesses. What an incredible twist to an already-incredible tale! I could hardly bear that she spent the rest of her life hoping for forgiveness, even buying a house by the road to Balmoral. The idea that the passing royal limos never stopped was so poignant and made, I felt, a dramatic beginning (and end) for my story. It is so sad that there wasn't a single royal flower at Crawfie's Eleanor Rigby-esque funeral.
And yet the Queen owes her so much; these early, 'normal' experiences, I'm sure, were fundamental in forming her sensible outlook. That Elizabeth II never puts a foot wrong may well be largely due to having Crawfie. There are also echoes of Crawfie in Megxit; another woman who tried to modernise the Windsors!
To write it, I consulted every source I could find, filling the gaps in with my imagination. I knew I had something special; the tale of the Abdication, 1937 Coronation and World War II from an entirely new angle, one never explored before.
The little-known story of the Queen's entire childhood. The story of the making of an iconic monarch. The prequel to The Crown.
I was on a cliff-edge in Cornwall when I got the news that The Governess was to be published. I was so thrilled I almost fell into the sea. Welbeck in the UK and Berkley Penguin Random House in the US (whose Berkley Press are publishing it as The Royal Governess) were the first to take it up. The Governess will also be published in Australia, France. Italy, Germany, Spain, Russia, Greece and Turkey.
---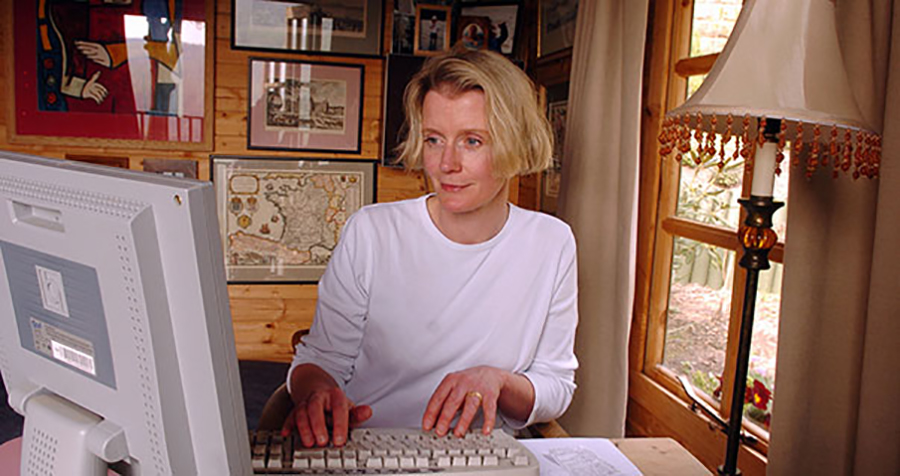 When you're a writer, the whole of life is material. The problem is knowing what to leave out.
At the beginning of my career I drew a lot of inspiration from various of my jobs. I was a journalist for fourteen years and there were few national newspapers or magazines whose glass doors were not darkened by me at some stage. The Telegraph, The Mail, Harpers & Queen to mention a few, but what really lit the blue touchpaper was the Sunday Times.
I was deputy editor of the paper's Style section. One morning the Sunday Times editor called me into his office and told me he had a special mission for me. I was to be in charge of a very important new columnist who went on to be quite well known, Tara Palmer Tomkinson. Very sadly, she died a few years ago, far too young. But I like to think that I knew her in her prime, and at a crucial moment for both of us.
It soon turned out that Tara could be ever so slightly unreliable and it fell to me to do the whole thing from scratch every week, using material from whatever snatched conversation I managed to have with her.
During the time I 'edited' Tara's column she had legions of admirers and was engaged to at least one of them; the revolving door of her love life was in fact the secret of the column's success. The theme of her eternal quest for a man was a useful foilto the enormous envy that contemplation of Tara's stratospherically glamorous lifestyle might otherwise have provoked in the reader.
As her editor I was less convinced, Slumped at my desk in Waping, I would grind my teeth in envy as Tara described her evenings as a sad single woman. Dinner with Richard Gere, for example. Partying at the Oscars with Tom Cruise.
Any attempt to convince myself that even glittering soirees with film stars must get boring after a while were soon shot down by Tara. "If rich people can be dull, poor people can be duller," she once told me. Going home that night on the crowded, sweaty Underground, it was hard not to see her point.
Tara, of course, didn't 'do' public transport. But to be fair, she was ready to admit that flying private could be problematical. At our first meeting she told me how her then-boyfriend, a Danish restaurant-owner, had landed his helicopter in her parents' garden and blown all the petals off the third best herbaceous borders. "Mummy was absolutely furious," Tara told me breezily, between bits of toast. "So from now on it has to be landed in the orchard."
During my weekly conversations with Tara, I picked up many lessons for life that have stood me in good stead since. When flying, for example, I always bear in mind her maxim that In Economy, You Make Enemies, in Club you make Comrades and First you make Friends. Her suspicion of canapés – "the ones that get dropped on the floor get put back on the trays" – mean that it's years since I've been able to look miniature fish and chips in the eye.
I was unsurprised when Tara eventually confessed to having a drug problem. There were many signs that her life was not as much fun as it seemed. As well as boyfriends, the column chronicled a revolving door of fair-weather friends. At one of her birthday parties I found her in a corner saying she hadn't the foggiest who most of the people there were.
We remained friends after I left the Sunday Times to become deputy editor of a glossy magazine, taking with me an idea for a novel called Simply Divine. By an amazing coincidence, it was about a downtrodden hack who has to write a column for a celebrity socialite!
Simply Divine, and Tara, despite pretending to be furious about it, turned up at the champagne launch party at the Ritz in a ski hat and provided lots of useful publicity. The book roared into the Top Ten, the film rights were snapped up by Warner Brothers, and all in all, for a few dizzying weeks, I rather felt as if I had turned into Tara myself.
It wasn't just Tara I drew on for material, however. Another rich seam was my time on glossy magazines, where I used to sit in meetings with people earnestly discussing how London was the new Manhattan and jewel-encrusted ketchup-bottles were the new can't-live-withouts. I was deputy editor of Tatler, which, as you can imagine, tended to employ people whose grip on reality was best described as tenuous. One memorable day, I received a call from an editorial assistant explaining that she'd missed the train and would be late for work. "Never mind," I said sympathetically. "The Tube's a nightmare this morning, isn't it?" "Not the train," she barked. "I've missed the plane. From Nice."
Nor was that the only eye-widening excuse I heard. Another woman rang to explain she could not come to the office because she was trying out 10 shades of white paint on the walls of her flat and this had to be done in the daytime – obviously, it could not wait until Saturday. Then there was the assistant who, having lost a valuable necklace given to her by her boyfriend, decided the only way round the problem was to blow up her car and claim it back on the insurance. "What car do you have?" I asked, imagining it to be a decrepit old banger. "A Mercedes," was the answer.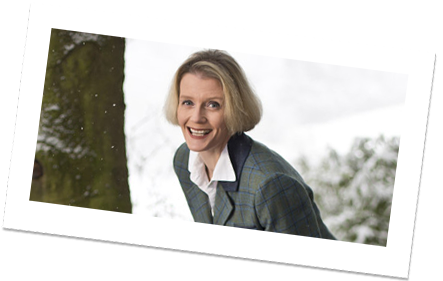 After you've been exposed to this sort of thing for a while, it no longer seems strange for the entire office to sign a card for the travel editor's dog, which has a slight migraine. Or, when said dog's condition worsens, send flowers round to the private hospital where the dog reclines on its own water bed attended by its own nurse. Nor did I especially bat an eyelid to be called into the editor's office one day and be asked if I knew the difference between upper and lower class legs. Now I'm back in the real world, I have to admit I sometimes miss it all. Where else, after all, do people greet the approach of winter by squealing "Only four weeks until fun fur!" and reminding each other not to eat puddings because 'Desserts Is Stressed In Reverse.'
I had no idea, when I started to write, that anything would ever come of it. It was all done partly in a spirit of adventure, to see if I could, but also as an insurance policy – if I'd had a go I couldn't blame myself in later life for not trying. It was my secret – I told absolutely no one, apart from my husband, and him only on a need-to-know basis. He needed to know why he was being sent out of the flat every weekend and why the telly could never be turned up above a whisper. His hearing is impaired to this day.
I absolutely love being a writer and pinch myself on an almost daily basis for being so lucky. But there is no doubt it is a life full of banana skins. For instance, I may have written ten top ten bestsellers but I share my mobile phone number with a south London carpet cleaner in moderate to low demand. I have met Mick Jagger and Princess Diana. I have trodden, by accident, on both Louis de Bernieres and the train of Princess Michael of Kent's dress. I appeared on the radio with Sebastian Faulks and on the telly with Kirsty Wark. But a literary lunch in Yorkshire is one of my favourite memories. After my speech, a somewhat formidable-looking lady came up and said, grim-faced, "You like funny stories, don't you?" "Yes," I admitted, rather nervously. "Well, listen to this." She was, it turned out, an enthusiastic needlewoman and had spent several of the preceding months embroidering a large and very detailed map of Yorkshire. She had recently embarked on the area around Sheffield. That morning, she told me, the shock still resonating in her voice, she had taken up her work from the night before to find, inexplicably, her needle driven into the canvas after embroidering a somewhat startling word apparently at random. It was only after some careful thought that she remembered she was stitching Penistone.
There's a novel in that somewhere…
---
My Garden
We weren't particularly looking for a new house when we heard about a Victorian lodge set in an acre of garden. Our home at the time was a train carriage shuttling between Derbyshire and London; at least, that's what it felt like. For some years we had been splitting our existence between a cottage in a country village and a flat near St Pancras and weren't really based in either. But the children had recently arrived which meant make your mind up time had too.
We went to see the lodge. It was small, cold and would need completely redecorating. The garden was more complex than we expected; three acres is easy enough if it's flat grass but these three acres were sloping, shady and hugely varied. There was woodland, overgrown with rhododendron like the Sleeping Beauty's thicket. Just one small spot, a tiny gap in the choking bushes, offered so much as a hint of the stunning views over the valley below. Below the garden walls were cracked, ailing fruit trees and undisciplined borders more rapacious than herbaceous – vast in height and size. There was a wrecked greenhouse and collapsed hut and a row of ruined coldframes. At the very end of the garden was a sea of mud that the lodge's current owners grew potatoes in.
We learnt that the small and decorative house, a tiny Victorian Gothic castle with turrets and a baby curtain wall, had been the home of the gardener employed by the nearby Hall. The Hall gardens, including the kitchen one, were reputedly designed by that most celebrated of Victorian horticulturists, Joseph Paxton, moonlighting from his job as head gardener at Chatsworth, just over the hill.
The near-wilderness we were looking at, we learnt, had once been rows of neat vegetable beds, pleached fruit trees, flowers for cutting and a woodland walk lined with specimen trees and Paxton's characteristic picturesque arrangements of rock. Few signs of any of this had remained when the owners bought the lodge in the Eighties, and they had started the enormous and painstaking task of uncovering the Victorian paths and bed patterns and restoring some of the old order and splendour. Now, selling up and moving to Dorset. they were looking for someone to take over and continue the work. I wasn't at all sure that someone was us.
"Great, isn't it?" said my husband, his eyes blazing with enthusiasm.
Jon had always been keen on gardening, even when all the available garden was a couple of London windowboxes. He had made the small patch behind our cottage a colourful, scented paradise. So far as he was concerned, the lodge gardens held possibilities almost as numerous as the weeds. I was less certain – until, that was, I saw the abandoned summer house in the woodland and saw its potential as a writing hut.
And so we bought it. Over the next four years – and with the help of our two fantastic gardeners - the sea of mud became an elegant kitchen garden, its neat vegetable beds framed in box and linked by graveled paths. Above it we built a finialed fruit cage containing raspberries and strawberries and next to that a line of new apple trees. The ruined cold frames were dug over and planted with peas and beans, plus pumpkins for the children's Halloween, and covered over with new frames. The collapsed greenhouse was rebuilt carefully on site, preserving the original shape and allowing the ancient vine within to grow properly for the first time in decades.
As for my hut; painted up, equipped with rugs, pictures, a sofa, a turntable and even a telephone (pink!) it's now the ultimate Room Of One's Own, a place of privacy to work in, even if, especially in the winter, it's also a place of extreme cold. Some days I arrive to find that the water has frozen in my flower vase and, even as summer approaches, I can still be writing with fingerless gloves on and huddled over a radiator. Yet still I prefer working in the garden to anywhere else; the view from my window, over the beautiful, mellow valley we can now actually see, is an inspiration in all weathers. And if I look up to the left I can see the great, gloomy, rusted urn I bought Jon last Christmas glowing amid the larches.
It's not all sweetness and light, however. Besides the borders practically doubling in size after every rainstorm, there are the predators to deal with. My imaginings (pre-moving here) that rabbits were cute and cuddly and moles just like they are in The Wind In the Willows have confronted reality head on. Four years and many devastated lupins and lettuces later, the long-eared friend of my childhood shows his true colours as a serial plant-murderer, while we participate in slow games of mole tennis with our neighbour (the pest-controller comes, the mole moves on to ruin next door; next door calls in the pest controller and back comes Moley to devastate our greensward.)
We've learnt to love our weeds (well, some of them). Valerian and foxgloves give great height and splashes of colour. Ladies' mantle can also work if contained. They're used to the terrain after all, unlike some of the plants we've tried to bring in over the years. An olive tree will not thrive in Derbyshire (although, interestingly, there's an ancient peach tree on the back wall). An expensive collection of tree ferns was an early casualty too. One lives and learns, and never so much as in a garden.