The Laura Lake Novels
In 2017 I began a series of hilarious books for publishers Head of Zeus about journalist sleuth Laura Lake. Loosely based on my own extraordinary experiences in the glam, crazy world of glossy magazines, the novels followed editor Laura as she unlocked mysteries ranging from hipster wedding intrigue to the secrets of Britain's most fashionable village and Scotland's most remote and romantic castle.
---
Three Weddings And A Scandal
Laura Lake longs to be a proper journalist. Instead she's an unpaid intern at a glossy magazine – sleeping in the fashion cupboard and living on canapés. But she's just got her first big break; infiltrate three society weddings and write a juicy expose.
Security will be tighter than a bodycon dress, but how hard can it be? Cue disappearing brides, demanding socialites and a jealous office enemy who'll do anything to bring her down.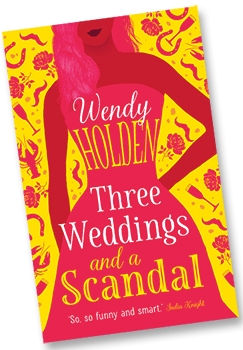 "Your ultimate summer read. Total bliss' DAILY MAIL
---
Last of the Summer Moet
Laura Lake's rivals don't think she's glamorous enough to edit glossy magazine Society. But Laura is certain her next scoop will prove them wrong. She's heard rumours of an idyllic village in the English countryside inhabitied solely by the rich and famous. Where film stars, artists and oligarchs swig Moet in the Michelin-starred pub and snig each other's wives on the pristine blue-flag beach.
Gossip, scandal, celebrity, it's the perfec piece for the Society reader. The trouble is, the location of the village is top secret. And even if she could find it, nobodies like Laura are strictly forbidden. There's only one thing for it, she'll have to go undercover..
'Effing marvellous' JILLY COOPER
See my article, inspired by this novel, in the Sunday Times; The New Posh Village People
---
A View to a Kilt
(THE PLOT) Society is London's most glamorous glossy magazine. But it's in trouble. Ad revenues are down and editor Laura Lake needs to get them back up – or lose her job.
According to those who know, Scotland's having a fashion moment. No Michelin-starred menu lacks haggis tempura, celebrities are taking bagpipe lessons and smart spas offer porridge facials. Laura heads for a Highlands baronial estate to get a slice of this ultra-high-end McMarket.
But intrigue follows her like night follows day. And at Glenravish Castle – a shooting lodge fit for a billionaire – Laura bags a scoop that won't just save her job. It could cost her life.
"So, so funny and smart" INDIA KNIGHT, the Sunday Times