Never has the future of the Royal Family been more hotly debated. But The Queen has been the world's most successful monarch. Is her sure touch all down to the spirited young teacher who brought the real world to her remote royal childhood? Maybe so. Yet Marion 'Crawfie' Crawford was banished by the Royals forever following a minor indiscretion. When I found her extraordinary story, I knew it was the novel I had to write.
My new top-ten bestselling historical novel is now out in Britain and America. Its UK title is THE GOVERNESS and it is published as THE ROYAL GOVERNESS in the USA where no less an authority than The Washington Post calls it 'a terrific read'.
The UK reviews have been fabulous as well with the Mail on Sunday describing it as 'a poignant fictional re-imagining of a woman condemned by history, with plenty of modern-day echoes'. Meanwhile, the brilliant Jilly Cooper was kind enough to say she 'adored this wonderful book. What a great story Wendy Holden has told'. You can see many other lovely reviews at the bottom of this section and please scroll through my Twitter feed to see the many articles I wrote in magazines and newspapers including The Daily Telegraph, Tatler, Harpers Bazaar, Saga magazine, Woman & Home (where The Governess was a Book Club Pick), My Weekly and Woman's Weekly (who picked it too) and the Sunday Express Magazine.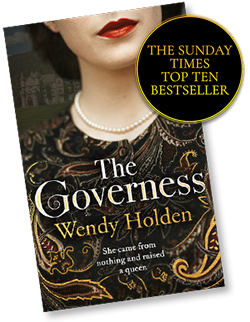 So what's THE GOVERNESS about? Here's the story. In 1933, a progressive young teacher, Marion Crawford, becomes governess to little Princess Elizabeth and her sister Margaret. Inside the castles and palaces she finds a family frozen in time. Determined to give her pupils a fun and normal childhood, she takes the princesses on tubes and buses, swimming at public baths and Christmas shopping at Woolworth's.
During her seventeen years at the heart of the royal family, 'Crawfie' occupies a ringside seat at some of the most seismic events of the twentieth century. The drama of the Abdication, the glamour of the Coronation, the trauma of World War Two. When Elizabeth first sets eyes on Philip, Crawfie is there.
But such devotion demands sacrifice, a personal life put on permanent hold. And Crawfie's dedication counts for nothing once she publishes The Little Princesses, a loving, harmless account of life as a royal governess. It earns Marion the Windsors' lasting fury…
Her story, glamorous, dramatic and tragic by turns, shines a captivating light into the world's most famous family as never before or since. It is also the story of the building of a Queen.
For more about what inspired the book, go to ABOUT ME